2022/06/08
Won the Best Award of the Best Foreign Film Importer-Distributor Award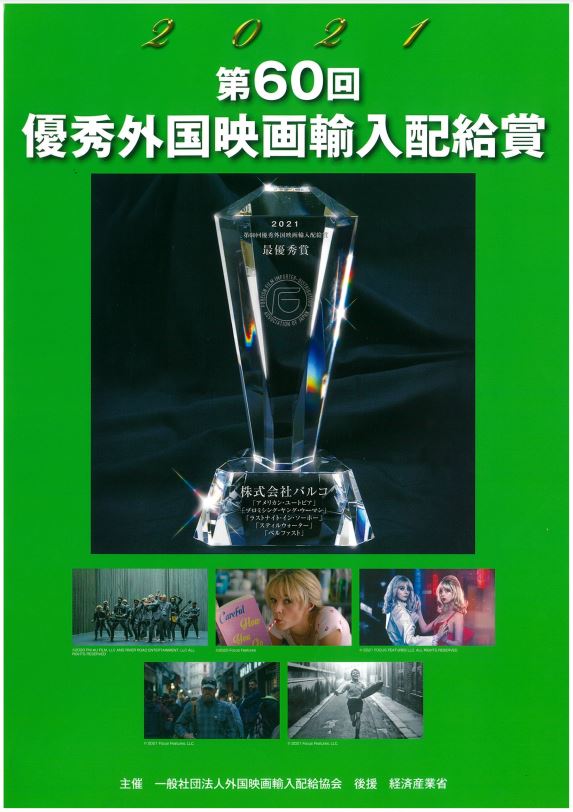 PARCO won the Best Award from the 60th Best Foreign Film Importer-Distributor Award.
Five of the 17 films distributed by PARCO during the year from April 2021 to March 2022, Promising Young Woman, Belfast (both won the Academy Award for Screenplay), and David Byrne's American Utopia (Long run screening for over a year), Last Night in Soho and Stillwater were the targets of evaluation.
While there are movies of various genres that stimulate intellectual curiosity and fascinate what you see with the depth of content, there are also movies that are full of humanity that evoke sympathy for a wide range of age groups. The fulfillment of the movies that were screened was highly evaluated.
The Best Foreign Film Importer-Distributor Award is presented by the Foreign Films Importer-Distributors Association of Japan and under the auspices the Ministry of Economy, Trade and Industry. Every year, all foreign films released during the year from April to March of the following year will be judged. This award is given to "a distribution company that imports and publishes movies that are recognized as excellent and contribute to the development of new fields and the development of the Japanese movie industry."
PARCO will continue to offer many challenging films.