PARCO has a nationwide PARCO of shopping centers from Hokkaido to Fukuoka in Kyushu.In each market where PARCO shopping complexes open, we utilize a different store concept. In order to be able to respond quickly and precisely to the constant changes in the environments of each location, we group shopping complexes according to function based on their target market characteristics. After categorizing a complex as either a City Complex or a Community Complex, the next step in building a robust revenue base is to optimize product composition and operation methods at each facility to suit the applicable customer base.
The equal partnership with our store tenants
PARCO makes agreements with tenants whereby PARCO takes responsibility for attracting customers and running promotions, while the tenant handles sales activity. By working across Japan to create commercial spaces where people can gather and have fun, we are winning the support of customers and developing a firm customer base.
One of the things that really sets PARCO apart from other companies is our equal partnership with our store tenants. These partnerships, which are based on trust and common values, are mutually beneficial and by growing our business together with those of our tenants, we are supporting our own continuous growth.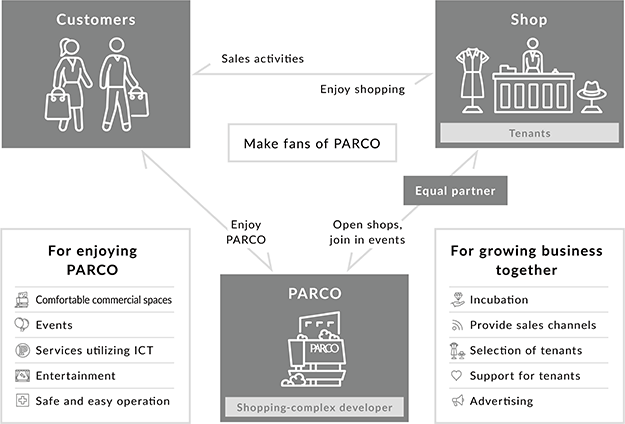 The shopping complex PARCOs are produced in comprehensive, and regularly and actively refurbished
PARCO produces total complex PARCO from shop editing to environmental presentation, store operation, advertising and sales promotion activities, and at the same time, store maintenance.
In addition, we conduct periodic and proactive renovations to constantly create fresh and attractive PARCO sales floors.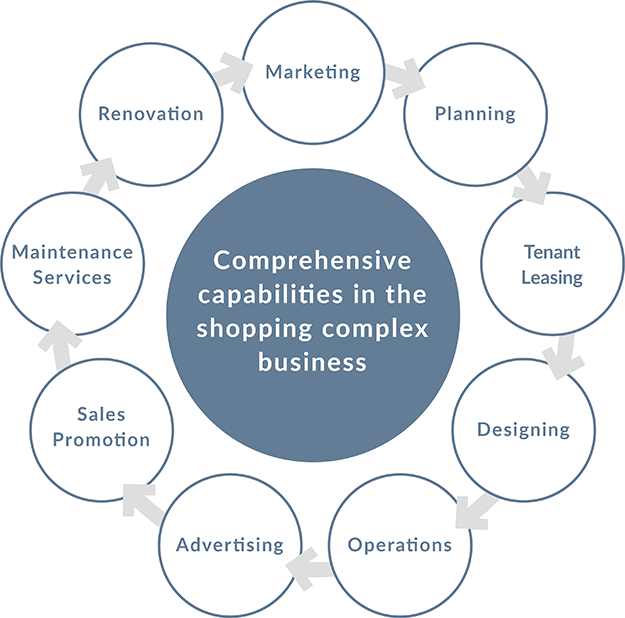 Incubation to discover and support new talent
To continue to produce new ideas for the market it is necessary to foster new talent. We see the growth of up-and-coming fashion designers and creators and that of our tenants as being key to PARCO's growth. We work hard to discover and incubate new talent to support that growth.
Tenant incubation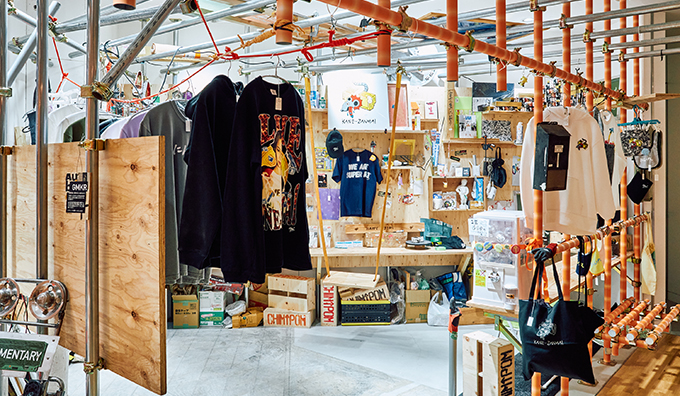 PARCO is expanding the number of locations implementing trial shop openings from new tenants and leveraging store expansion. It is also actively developing shops in new commercial areas through the use of its tenant network.
Designer incubation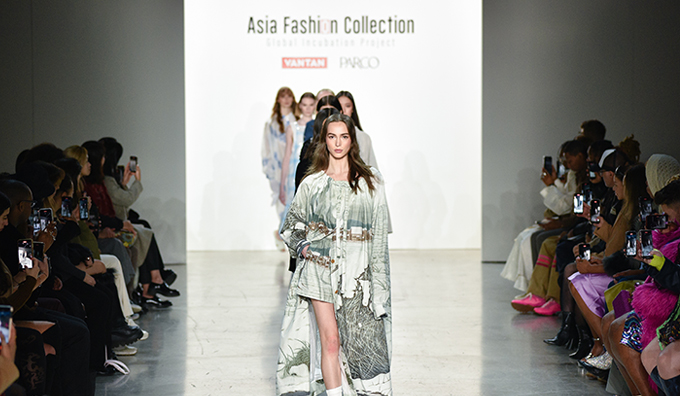 The next generation of designers is pursuing refined craftsmanship yet struggling to find opportunities to grow. For this reason, PARCO hopes to support the talents of those who will lead the way to the future of fashion by providing designers with opportunities to grow their businesses.
Creator incubation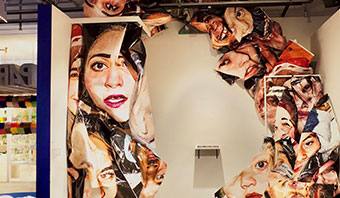 PARCO provides a venue for young creators working in a variety of fields to exhibit their creative works.
ICTs for servicing customers and supporting our tenants' shops
The way we communicate information is rapidly changing, and PARCO is strengthening initiatives that leverage information and communications technology (ICT) to effectively and efficiently communicate with tenants and customers. PARCO offers a variety of Web-based services to optimally highlight the appeal of our stores.
For customers, PARCO Card, our house credit card, and POCKET PARCO, the official PARCO smartphone app, enable shoppers to collect PARCO points in which we provide service to customers at PARCO stores. Also online, PARCO offers a unique service called PARCO ONLINE STORE.
On the other hand, for our tenants' shop staff, in addition to training at shops to develop their customer service skills, we provide web-based support tools to help them perform their duties efficiently and effectively, including an e-learning system for customer service and the introduction of group wear to reduce clerical work.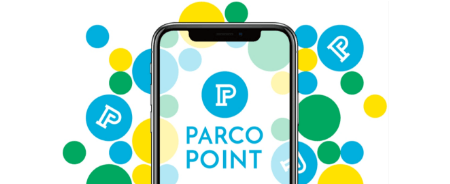 Related news
Updated Feb. 24, 2021