Crowd-Funding Service BOOSTER
BOOSTER started in December 2014 to provide support for well-intentioned community contribution projects and new product development projects of start-ups with promising technologies and ideas. We add PARCO-style incubation and collaboration opportunities into the mix to provide support with fund raising, advertising, test marketing, and other challenges. In June 2018, PARCO concluded an alliance and investment agreement with CAMPFIRE, Inc., operator of Japan's No. 1 crowd-funding platform CAMPFIRE. The two companies began jointly operating BOOSTER in July. The crowdfunding services utilizes both company's strengths, including measures such as distributing information to around 540,000 CAMPFIRE members and approximately 1.65 million people following PARCO on social networking services and running sales promotions at real stores such as PARCO stores nationwide. The alliance has produced Japan's top crowdfunding service in terms of amounts fund circulation per project and target amount achievement rate. Now one year on since the alliance was formed, BOOSTER is performing strongly, not only with individual and start-up projects, but also with a growing number of major companies' ESG- and SDG-related projects and new product development projects.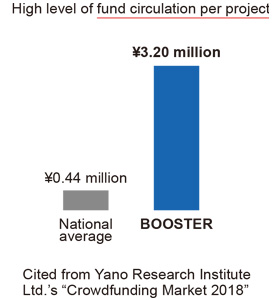 Collaboration with "ToukenRanbu-ONLINE-" and Daimaru Matsuzakaya
Promoting the Appeal of Osaka Town throughout Japan through a cultural property revitalization project at Osaka's iconic shrine
This project aimed to newly reconstruct the Ishikirimaru Sword, an important cultural property belonging to the Ishikiri Tsurugiya Shrine, and offer it to the shrine. Thankyou gifts for project supporters and advertising were prepared with cooperation from the wildly popular PC browser and smartphone game "ToukenRanbu-ONLINE-" (wild dance of swords), while Daimaru Umeda Store has also assisted with displays and advertising. Through this kind of PARCO-style collaboration, we received tremendous support and communicated the appeal of Osaka throughout Japan.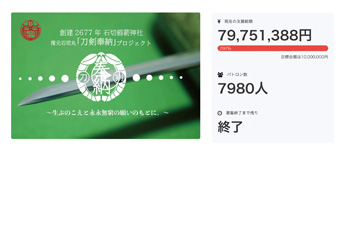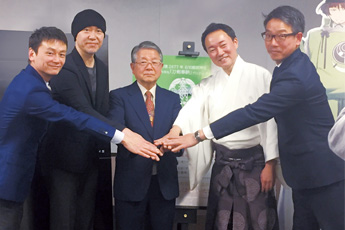 Japan's first showroom specialized for trialing products, BOOSTER STUDIO by CAMPFIRE to open in Shibuya PARCO
PARCO and CAMPFIRE plan to jointly operate Japanese first showroom store specialized for trialing products, using crowdfunding and AI. The store will display products at the trial stage, such as unique digital products, technologies, and ideas of start-ups and major manufacturers. The store will provide feedback to exhibitors for the exhibited products including customer behavior data and AI analysis, as well as information acquired through conversation with the store staff. By partnering with BOOSTER, the store can offer exhibitors both online and real-world marketing data, aiming to be of use in improving products, developing new products, and formulating the next retail strategy, such as opening a physical store.

Cultural Information Dissemination Center PARCO MUSEUM
As part of the temporary closure of Shibuya PARCO, PARCO MUSEUM was relocated to the seventh floor of the Ikebukuro PARCO Main Building, then renovated and reopened in September 2016. Here it continues to create and curate diverse exhibitions and events transcending the existing categories of art, design and culture. In fiscal 2018, we ran a photography exhibition by a popular actor, "Ryoma Takeuchi Photograph Exhibition– unreleased -photo by Akinori Ito-." An alternative version of a photography collection that is already making waves, this exhibition contains only photos not included in the collection. A film was also shown with the photographs, providing a peek into the atmosphere of the shoots. We also sold original merchandise such as a version of the photography collection with a limited-edition cover for the gallery, which was highly regarded.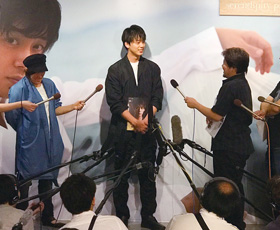 Message from Stakeholders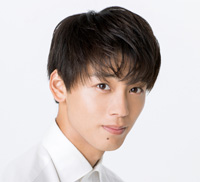 Last year, I was delighted to create a photography exhibition together with PARCO at the same time as the "Ryoma Takeuchi" photography collection. It was my first time trying a photography exhibition, and since it toured Japan, it was a major event for me. There were some tough challenges, but with the help of everyone we succeeded. Thank you all so much.
Development of Collaboration Cafe
We develop various Collaboration Cafes through original content development and tie-ins with companies to provide new consumer experiences.
The GUEST cafe & diner
PARCO develops cafes tied in with various content such as popular characters, films and anime. Featuring themed menus, the cafes enable customers to engage in the unique worlds of particular works. There are now five* in operation around the country. In 2019, we collaborated with the new book "Tokyo Ghoul: re" in the popular manga series "Tokyo Ghoul," which has sold over 37 million publications. We have opened Tokyo Ghoul: re Cafes in five locations nationwide. The cafe will reprise popular menu items such as Disgusting Sandwich, which enjoyed great popularity in 2017 when we opened a Tokyo Ghoul Cafe that generated a huge response. We also created a collaboration menu featuring images of the unique characters in the "Tokyo Ghoul: re" manga.
* Ikebukuro PARCO, Nagoya PARCO, Fukuoka PARCO, Sapporo PARCO and Shinsaibashi 161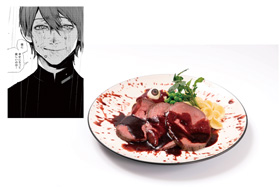 #Matcha PARCO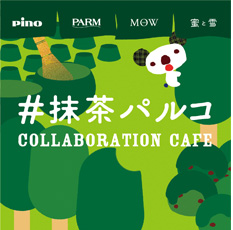 In our second collaboration with Morinaga Milk Industry Co., Ltd., we held limited-time openings of #Matcha PARCO collaboration cafes offering special matcha-flavored versions of Morinaga Milk Industry Co., Ltd.'s main brands, PINO, PARM, MOW, and Mitsu to Yuki. The #Matcha PARCO cafes opened at our PARCO stores in four cities: Nagoya, Fukuoka, Ikebukuro, and Hiroshima starting in April 2019. The cafe venues were decorated with matcha motifs, and offered matcha sampler plates with exclusive flavors and limited menus from each store. The cafes were highly popular, and sold out day after day.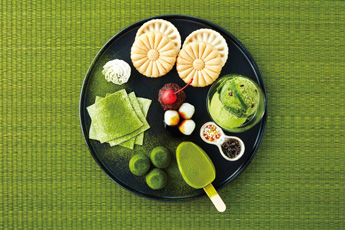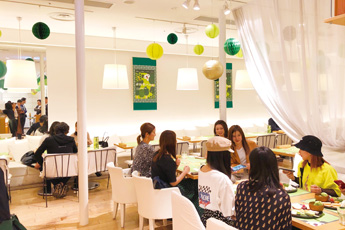 "Detective Cafe in Bangkok"
In August 2018, we opened Thailand's first "Detective Conan Cafe in Bangkok" for a limited time—our fourth overseas collaboration cafe project. Using the popular Japanese manga character Detective Conan for the motif, this first full-fledged collaboration cafe overseas was enjoyed by many customers. This project was realized with the assistance of Siam Piwat Co., Ltd., a business alliance partner in our inbound tourism strategy.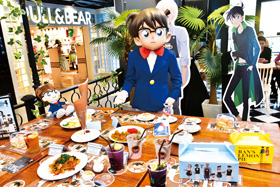 Activities to communicate PARCO culture overseas
We will promote responses to both inbound visitors and consumers overseas through activities such as developing original soft content throughout Asia and collaborating with shopping centers overseas, boosting recognition of the PARCO brand throughout Asia.
The olfactory exhibition "Smell Exhibition Super"
In cooperation with Aichi Television Broadcasting Co., Ltd. and MCIP Holdings Co., Ltd., we held the olfactory exhibition "Smell Exhibition Super" at the Huashan Laugh & Peace Factory inside Huashan 1914 Creative Park, an art and pop-culture area in Taiwan, for a limited time starting in April 2019. The event made full use of the olfactory sense to present a range of smells from pleasant to sharp. Sound, lighting, and images were also used to create an intriguing world of smell. The event had been highly popular in Japan, and was enjoyed by the overseas public as well, with over 30,000 visitors.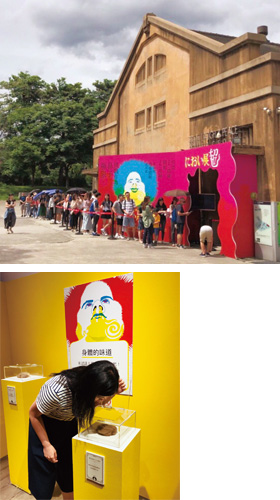 Japanese restaurant zone "itadakimasu by PARCO"
Since December 2016, we have been operating" itadakimasu by PARCO," a Japanese restaurant zone featuring seven restaurants, produced by PARCO, in the 100 AM commercial facility in the prominent Singapore office district of Tanjong Pagar. Based on the concept of "Japanese tastes every day of the week," the restaurants provide authentic Japanese taste and quality at affordable prices. With the increase in offices and residents that has accompanied development in the surrounding areas, the restaurants are performing steadily.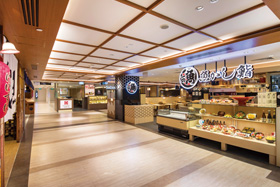 Updated Oct. 15, 2019