Incubation
Incubation Initiatives for Discovering and Supporting New Talent and Creating New Value
Since the opening of Ikebukuro PARCO in 1969, PARCO has been at the forefront of introducing the public to the cutting edge of culture, whether in music, the arts, the theater or other areas, discovering and supporting a host of new talent along the way. PARCO is taking advantage of its domestic and overseas networks and business expertise to provide opportunities for business growth.
---
Corporate Message for discovering and supporting new talent
"SPECIAL IN YOU."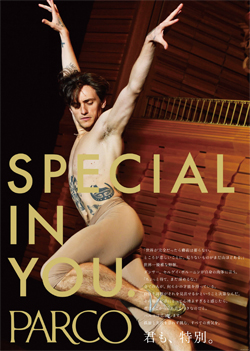 In 2010, PARCO launched the corporate message "LOVE HUMAN." Staying true to that sentiment, from 2014 we unveiled a new corporate message, "SPECIAL IN YOU." This message drives PARCO to a more powerful focus on incubation activities to uncover and support talent.
In 2017 we will feature the brilliant ballet dancer Sergei Polunin, who has had the courage to continue to fight his own sense of isolation and failure while engaging in a dialogue with his body and mind.
Profile
Sergei Polunin was born in Ukraine in 1989 and is 27 years old.
He underwent accelerated training in ballet from early childhood and entered The Royal Ballet School at the age of 13.
Dubbed the second-coming of Rudolf Nureyev, at the age of 19, Polunin became the Royal Ballet's youngest ever principal. Just two years later, however, at the height of his powers, he resigned from the company, shocking the world. He was called the enfant terrible of the ballet world, and amid rumors of having traded glory for a path of self-destruction, he appeared in the music video for the song "Take Me to Church" by Hozier, which was directed by the photographer David LaChapelle. The video was viewed over 20 million times world-wide and once again put Polunin in the limelight globally.
A documentary on the dancer, an intimate portrait of Polunin's glories and his struggles since childhood, entitled "Dancer," will be released in Japan in July 2017 (distributed in Japan by PARCO/UPLINK).
This advertisement was shot at Tokyo University of the Arts' Sogakudo Concert Hall on April 27, 2017 at a Japan premiere event sponsored by PARCO/UPLINK.
---
Support for Young Designer Fashion Show
FASHION PORT NEW EAST
We provided support for the 2017 spring-summer and autumn-winter collection shows at FASHION PORT NEW EAST, an event held as a part of Amazon Fashion Week TOKYO to discover and encourage young designers. FASHION PORT NEW EAST is a platform for supporting new designers by giving them the opportunity to show their work on their own terms. Changing the format from TOKYO NEW AGE, an event supported by PARCO over a number of years, for the future growth and independence of the brands, shows were held by each brand in an independent format. We also work to stimulate the industry as a whole by inviting in overseas designers and having Japan's young designers polish their skills alongside global talent.
We believe that having young designers show their designs to a domestic and overseas audience through this initiative will give them opportunities for further growth and that new talent for the next generation will serve as a new source of strength for the fashion industry.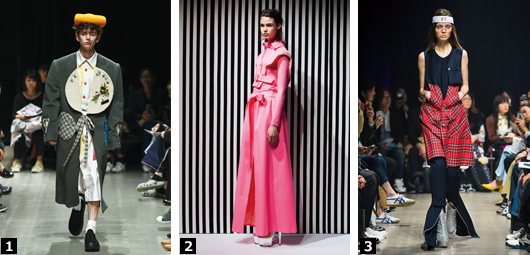 ---
Support for the Global Efforts of Young Designers from Asia
Asia Fashion Collection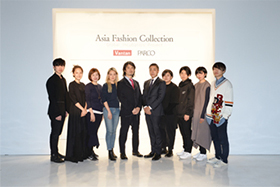 Through partnerships with apparel design schools in Japan and fashion organizations in countries across Asia, PARCO is involved in measures to discover and encourage young designers in Japan, Korea, Taiwan and Hong Kong. Through various support programs, including runway shows at fashion events in Tokyo, New York and Taiwan, PARCO is providing designers with opportunities to grow their business. Our aim is to spur advancement of both the global efforts of young Asian designers and Asia's fashion industry.
---
Creation of a Presentation Space for the Next Generation of Women Creators
Shibukaru Festival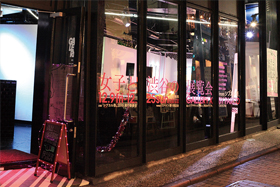 The Shibukaru Festival, which has been held since 2011 with Shibuya PARCO as the main venue, provides young women creators the opportunity to show their work and interact with their peers. Over 1,000 young women artists and creators have participated. In 2016, the Shibukaru Summer Festival was held in August in connection with the temporary closing of Shibuya PARCO, and the Shibukaru Fall Festival was held in October with Shibuya CLUB QUATTRO as the main venue. Also, in December, the Shibukaru Girls Art Exhibition was held at GALLERY X BY PARCO as its inaugural exhibition. Even with
Shibuya PARCO temporarily closed, we will continue supporting and encouraging the next generation of female creators.
---
PARCO's Crowd-Funding Service
BOOSTER
In 2014, PARCO launched BOOSTER, a crowd-funding service dedicated to supporting the realization of projects across the full spectrum of creative content domains through a framework that enables individual consumers to come together to put innovative challenges out into the public sphere. In addition to supporting the launch of projects, BOOSTER draws on the nationwide strengths of PARCO to expand awareness of projects and support business growth after launches.
In August 2016, the "FOR the THEATER LOVERS" charity event was held in connection with the temporary closure of Shibuya PARCO to raise money through the sale of furnishing and fixtures from PARCO Theater. Curtains used since 1973 and seats used by theatergoers over the years were refashioned by a spirited team of artists into commemorative merchandise. On the very first day of the sale, we achieved our goal to much fanfare. Going forward, we will continue to fuse online and physical retail (PARCO stores) to increase engagement with customers and encourage individuals and organizations that take on new challenges.
---
Message from stakeholders
Tei Shuwa
President, Architectural Design Office intentionallies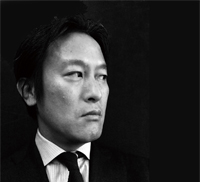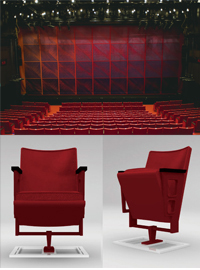 "PARCO THEATER Seat (for One) by intentionallies' Tei Shuwa," PARCO Theater memorial seat with number plate
Refashioning PARCO Theater Seats for "FOR the THEATER LOVERS"
It was on walks in Shibuya in the 1980s and at PARCO in particular that I went a bit beyond myself and first learned to engage style and culture on a life-size scale. Shibuya has its own unique atmosphere and its buildings and facilities do, too; it was a place that very much satisfied my curiosity. As the times change and facilities are being remade and reborn, I was given this opportunity to refashion the seats from a theater as a symbol of this; it was a very fresh, very distinctively PARCO way of bringing closure to the age. I look forward to seeing new initiatives and engagement with the future.
Profile
Tei Shuwa's recent projects include new architectural design for U-TOWN, a large-scale facility in Taipei, Sumida Aquarium, Yebisu Garden Cinema, and Edo Wonderland. He is also involved in the new ADDA project in Indonesia while participating in the IoT furniture brand KAMARQ and other ventures.
---
Daiki Masuki
President, MAMORIO Inc.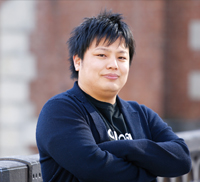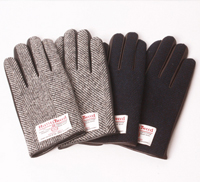 MAMORIO Gloves, IoT gloves developed with NEUVE A, a PARCO Group company
Pre-Sale Project for Japan's First IoT Gloves
We successfully commercialized Japan's first "Forget about forgetting" IoT gloves, the "MAMORIO Gloves," on BOOSTER. Due in part to being an almost in conceivably unique product, after its release it was picked up by television and other major media— the reaction was incredible—and this allowed us to successfully commercialize it. The project has been proven to be potentially applicable to various other fields as we ll, and from the standpoint of developing our company, it has served as a major springboard toward future business growth.
Profile
Daiki Masuki joined SBI Holdings after graduating from college and worked in public offer underwriting and risk management at SBI Securities. He established otoshimono.com in July 2012, which provides comprehensive solutions for lost items, the first of its kind in Japan, and changed its name to MAMORIO in June 2016.
Updated Sep. 1, 2017