PARCO is supported by people, namely our employees. Our people make full use of their knowledge and spirit to ensure that they continue to provide customers with innovative solutions. This, in turn, earns PARCO the support of both our tenants and their customers. We understand that crafting an environment where every employee can contribute to the fullest is important to all stakeholders, and that is why PARCO is advancing internal systems to promote diversity and cultivate an open corporate culture.
Promotion of Diversity
PARCO promotes diversity management because we believe that hiring and cultivating motivated employees with diverse abilities and characteristics creates new value, contributing to the improvement, development and growth of our business.
The Diversity Committee has been established comprising members from across the PARCO Group to ensure our hiring practices are inclusive and that we maximize the diverse abilities and characteristics our employees. The Committee contributes to business activity that incorporates diversity considerations, cultivating dynamic group-wide internal communication and awareness-raising activities, and creating an inclusive company culture through networking with external groups and organizations.
The Diversity Committee is discovering new ways of thinking about diversity management by carrying out internal research, introducing new systems by conducting trials of flexible working styles for a diverse staff, and interacting with external organizations, as well as taking action that will lead to a diverse range of working styles.
The establishment of the Diversity Committee
In 2005 we launched PARCO Women's Network, a company-wide project that aimed to promote the active participation of women. Since 2011 it has developed into the Diversity Project, broadening its scope beyond gender to cover all diversity and inclusion issues and has engaged in a range of activities to raise awareness and build an inclusive company culture. The Diversity Committee was established in 2014 to respond swiftly and flexibly to changes in the business environment, such as globalization and market competition, and to put a greater emphasis on the promotion of diversity management, in line with PARCO's management strategy. The Committee is chaired by the president of PARCO and comprises PARCO executive officers and the presidents of each group company, with mid-level PARCO Group employees participating at the working level. The Committee carries out diversity activities with both top-down and bottom-up approaches, and promotes initiatives to further unify the PARCO Group.
Employee Work/Life Balance Support System
PARCO is also promoting the dynamic participation of women in its business, supporting employees' work/life balance by reviewing work styles and implementing measures to ensure both work and childcare/nursing commitments can be maintained.
Promoting a review of working styles
Flexi-time system
PARCO's flexi-time system, which enables more effective and flexible working, was introduced and expanded across the company in May 2016, including at PARCO stores, as part of our efforts to improve employee work-life balance. In May 2020, we further enhanced the system, eliminating core-time and enabling employees to leave work for short periods for personal matters. The system makes it possible to adjust daily schedules to fit both work and personal plans, creating a more employee-friendly environment.
Under the flexi-time system, employees have become more conscious of working time, which has led to improvements in efficiency.
No-overtime day
We implement no-overtime days to encourage focused work.
Mobile work
We are promoting mobile work for employees whose duties involve a lot of time away from the office, enabling them to work while travelling, and increasing productivity per hour worked. In addition, we have introduced and implemented a work-from-home system to support balance between the personal circumstances of individual employees and their work, and to ensure
business continuation in the event of an emergency. The system previously was limited to employees with time constraints and required an application process, but as of April 2020, has in principle been expanded to all employees without application. Final decisions on whether certain duties are suitable for working from home will be made at each department.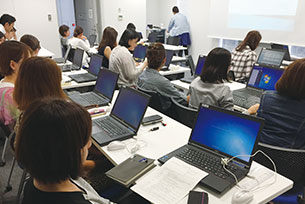 Encourage holiday time
We are working on creating an environment for 'focused work and relaxing time off'. Employees need to rest and 'recharge' in order to perform at their best and be creative and successful in their work. PARCO actively encourages employees to take holidays by holding an annual 'holiday promotion day' and recommending that each division does the same.
Seminars for management
We are holding awareness-raising seminars for managers to encourage the participation and growth of a diverse workforce in a way that uses working time effectively and maintains a work-life balance. In September 2016, we held a talk by an external lecturer on the topic of 'iku-bosses' (bosses, managers and supervisors who support their teams' careers and life outside work, ensuring a satisfying work-life balance while still meeting high targets and achieving success for their organizations).
Support for a childcare/nursing care and work balance
PARCO has made changes to its Employee Work/Life Balance Support System in accordance with January 2017 amendments to Japan's Child Care and Family Care Leave Law, and has expanded some systems beyond what is stipulated by law.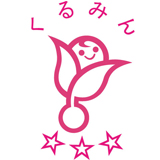 Systems beyond those stipulated by law
*Systems not outlined here also fulfill legal requirements
1) Systems for use during pregnancy
| | |
| --- | --- |
| Mitigation of working hours during pregnancy | Working time can be reduced by up to an hour per day, paid. |
| Revival of expired annual paid leave days | Expired annual paid leave days from the previous year can be revived and taken. |
2) Systems for use during childbirth
| | |
| --- | --- |
| Spouse maternity leave | Three days of paid leave can be taken when a spouse enters childbirth (including common law spouses). |
3) Systems for use during childcare/nursing care
Childcare leave
Leave can be taken until the April 10 following the child's first birthday (permanent employees).
This leave can also be extended until the child is 18 months old in certain cases, such as when the child cannot get a place at a daycare facility.
Nursing care leave
Up to a year's leave can be taken per applicable family member, which can be divided into as many as three separate spells.
System for requesting a specific department upon return to work
Employees can request a specific department to return to after taking childcare or nursing care leave. In principle, they cannot be transferred from this department for two years after returning.
Childcare time off (paid)
Working hours can be reduced by up to an hour per day paid, applicable until the child turns one-year-old.
Reduced working hours for childcare
Working hours can be reduced by up to two hours per day, applicable until the child enters junior high school.
Reduced working hours for nursing care
Working hours can be reduced by up to two hours per day while nursing care is required, without limits to length or number of spells required.
System for selecting reduced hours or holidays
Up to two hours per day designated for reduced working hours can be converted into holidays instead. It is also possible to take a combination of reduced hours and holidays.
System for selecting workplace location
Employees with children not yet in high school or with a family member needing nursing care can select the region within which their workplace is located in order to avoid moving.
System for re-employment of former employees
Employees who resign due to childcare or nursing care responsibilities who apply and have their application accepted can take advantage of a system that allows their rehiring within three years of leaving.
Human Resources Development Initiatives
We are engaged in implementing educational programs geared for different career paths and areas, with the aim of equipping each one of our staff with stronger skills and higher motivation. We are also implementing an educational rotating system that periodically rotates staff between various departments, business areas, and regions, allowing them to widen their horizons and to strengthen their adaptability. Through a variety of workshops, we are working to introduce a competency and ability based career progress system.

Administration Division
In addition to the rotating system, PARCO is working hard to support our employees' capacity for development through providing a wide range of training and learning opportunities.
Main training implementation
1) New employees

Induction training (e-learning, training trips), pre-assignment training (approximately two months), follow-up training

2) Young mid-level employees

Business skills training, tutor training (for new employee training), next-generation leadership training, industry placement training, business school support, support for attending external public seminars

3) Other

Department-specific skills training, female leadership training, management training, compliance training, market inspection training, e-learning/distance learning, financial reward for obtaining qualifications/paid examination fees
Supporting Diverse Work Styles
We believe it is important to provide an environment where individual employees feel motivated to make use of their talents. We are therefore working to create systems and an environment to secure diversity and to promote the creation of a corporate culture.
Supporting Workstyles That Do Not Require a Specific Workplace
We are promoting communication and faster and more intense operations through the utilization and expansion of ICT.
• Renew internal Groupware with the introductionofcloud services, etc.
• Provide all employees with mobile PCs and smartphones
• Promote internal exchanges and flexible workstyles (expand web meetings, partially introduce free addresses, establish free working spaces and concentration areas)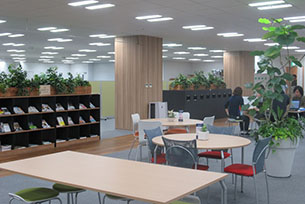 Second Job Program
in February 2019 we introduced the side job program as part of our new workstyle. (As of May 31, 2019, four people are using the program).
Basic Policy on the Program
• Second jobs and other experiences outside the Company provide opportunities for employees to grow, and employee growth leads to Company growth
• The Company has employees with diverse talents, and second jobs can provide opportunities for employees to utilize their talents
Objectives and Expectations of the Program
• Promote growth and autonomy of employees
• Revitalize internal activity (promote innovation)
• Retain and acquire diverse human resources
• Opportunities for employees to utilize diverse talents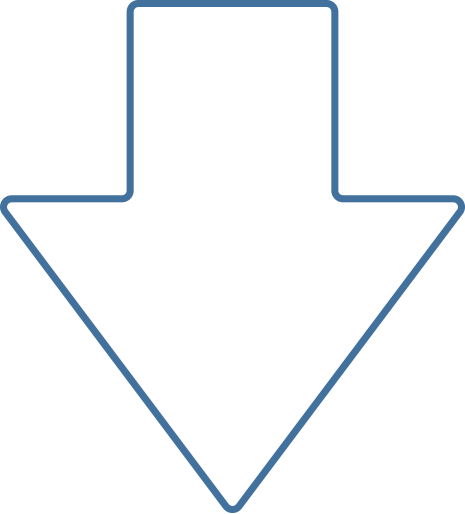 • Experiences outside the Company will
- Stimulate competitive awareness and promote innovation - Expand employee perspectives and human networks, leading to transformation of Company culture
• Through the second job program, the Company will –
Expand options for self-realization - Positively impact human resource recruitment
Promoting dynamic participation of women
The PARCO Group views efforts to promote greater participation by women as vital, taking steps to embed career seminars, management training sessions and work-life management internally throughout PARCO; we also pursue measures to comply with Japan's Act of Promotion of Women's Participation and Advancement in the Workplace (Advancement of Women Act).
PARCO promote participation by women through a variety of initiatives. We recognize that encouraging shorter working hours by promoting the use of paid leave and improving the percentage of women in managerial positions will go far in helping to resolve issues pertaining to female participation. Together with enacting measures to encourage taking leave, we formulated an action plan in response to the Advancement of Women Act that includes cultivating female managerial candidates, providing opportunities for boosting the career consciousness of young female employees, and creating a workplace more conducive for employees with time constraints.
Action plan based on the Advancement of Women Act
Participation in cross-industry consortiums PARCO takes active part in and shares information from cross-industry consortiums and other projects focused on work and female career education and work-life balance.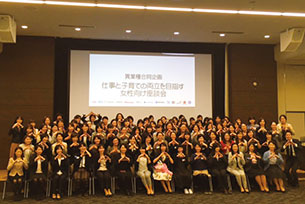 Promoting Compliance
PARCO's Basic Principles of Compliance stipulates that all PARCO executives and employees shall conduct fair and highly transparent business activities in compliance with applicable laws in Japan and overseas, social norms, and internal company regulations.
PARCO conducts compliance training on topics such as the Personal Information Protection Act and on the risks associated with social media and other online activity. All employees are also required to participate in training designed to prevent harassment by increasing awareness.
As part of PARCO's continuous efforts to improve as a company, we have established a number of internal reporting systems to guard against corruption and encourage employees to report violations of laws and regulations so that these acts may be identified and corrected early.
Basic Principles of Compliance
Reference charts
Trend in employee numbers, ratio of men vs women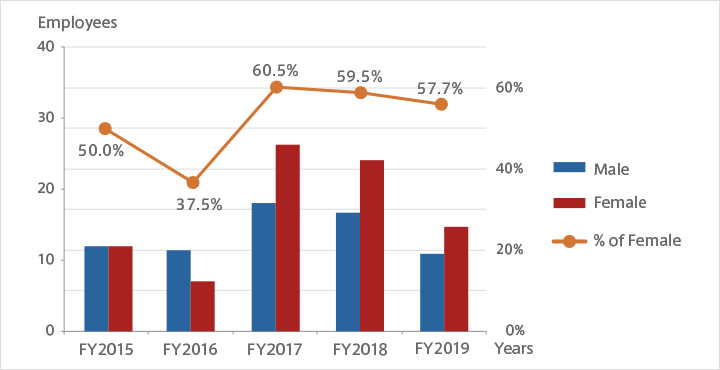 Employee numbers by gender/trend in ratio of female employees (total of both full and contract employees)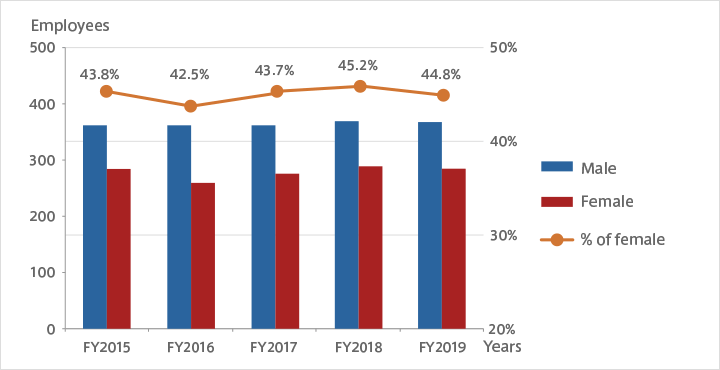 Trends in length of employment (at end of each year)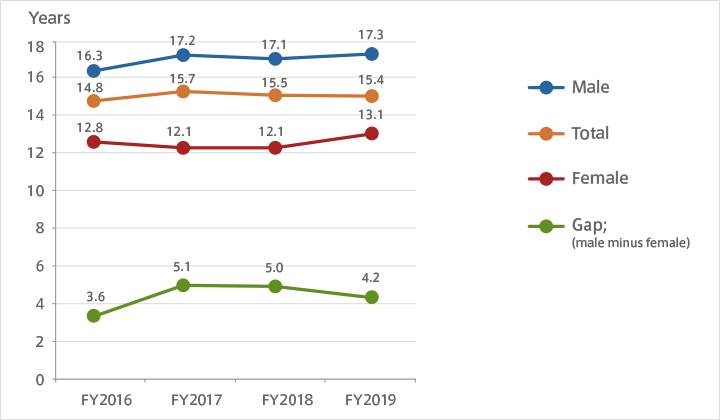 Trend in ratio of women in management positions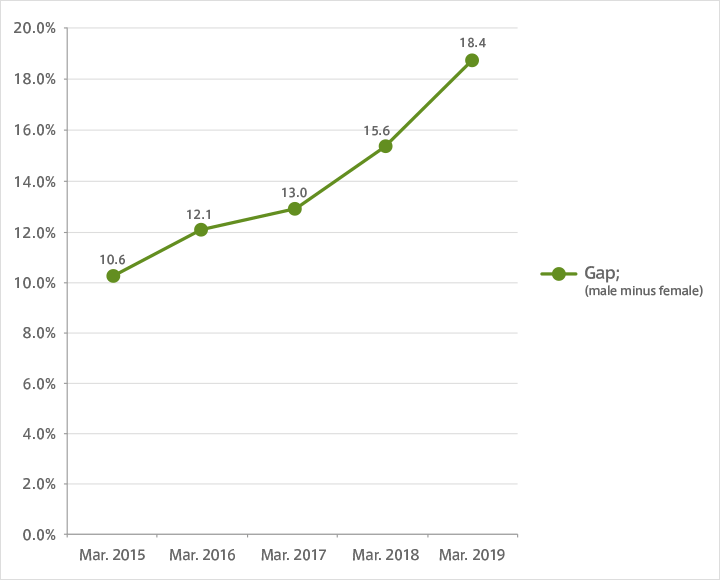 Updated Apr. 3, 2020