At PARCO, we define CSR initiatives as activities carried out through "business activities = core business. PARCO is proactive in tackling ESG (Environment, Social, and Governance) issues and is promoting initiatives that will lead to the sustainable improvement of the PARCO Group.
Furthermore, at the United Nations Sustainable Development Summit of September 2015, the 2030 Agenda for Sustainable Development was adopted and the 17 Sustainable Development Goals and 169 targets were proclaimed. Through our CSR initiatives, the PARCO Group aims to contribute to the resolution of various social issues.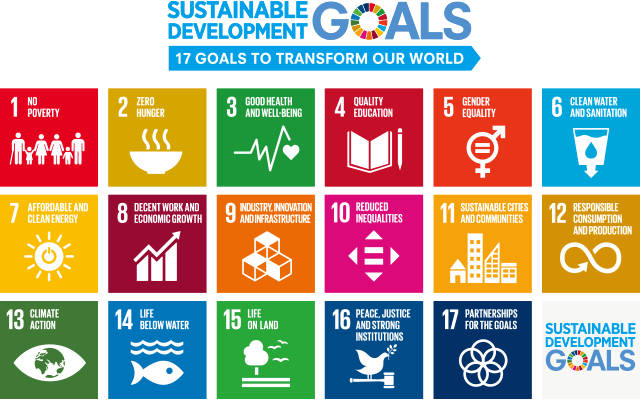 Society
"Customers," "store tenants," "employees," "shareholders," "local communities and society," "land owners and leaseholders," and "suppliers" are all stakeholders in our business. Our goal is to gain the sympathy, understanding and support of these seven groups of stakeholders, so that we can enhance our corporate value.
Environment
The PARCO Group recognizes global environmental issues as an important theme in its business activities in shopping centers and related fields. Through the promotion of environmental preservation activities, the Group seeks to leave a sustainable society for future generations. To this end, the Group aims to reduce the environmental impact of the commercial spaces it creates. These efforts include cooperating with tenants and other transaction partners, and making sure that customers and local communities are informed of the Groups activities and accept them. 
Fundamental policy The PARCO Group recognizes that protection of the environment is an important theme in its business, and seeks to contribute to a sustainable society for future generations through the promotion of initiatives to reduce its environmental footprint.
Specific environmental
initiatives As part of its commitment to the environment, the PARCO Group has introduced energy- and resource-saving initiatives and is taking steps to expand environmentally friendly commercial facilities. The group participates in national environmental campaigns and is certified by a number of local eco schemes.
Enviromental data The PARCO Group discloses data on energy and resource inputs including electricity usage, gas usage, and total water usage as well as outputs such as CO2 emission levels, recycling rate, and waste water volume.
Governance
PARCO maintains good relationships with all stakeholders including local communities, customers, and business partners, while striving to enhance corporate governance, so that we may fulfill our social responsibilities as a company.
Compliance and Risk Management We establish a system to assure the suitability of our company, and promote of compliance and risk management initiatives.
Updated May 29, 2020